Nathan M. Farrugia
Nathan M. Farrugia is the author of the USA Today bestselling Helix and Fifth Column technothriller series. Nathan is known for placing himself in dangerous situations, including climbing rooftops in Russia and being hunted by special forces trackers in the United States. He studies Systema, a little-known martial art and former secret of Russian special forces.
Beyond his army training, Nathan has trained under USMC, SEAL team, Spetsnaz and Defence Intelligence instructors, and the wilderness and tracking skills of the Chiricahua Apache scouts and Australian Aboriginals.
My first book was a choose-your-own-adventure book I wrote when I was ten.
It had multiple endings and made no sense.
Later in life I tried my hand at writing a novel. It took me ten drafts before I lost my mind, or found a literary agent. Whichever came first.
As it turns out, I did find a literary agent. Jury's still out on the losing my mind part though.
At eighteen, I joined the Australian Army. After we were tricked into invading Afgh­anistan, I found my desire to uphold liberty misplaced and later discharged from service.
After completing my studies in film, television and professional writing, I delved briefly into stunt work and acting, where I found myself in a lead role for a comedy sketch TV series. That's when I realized I needed a real job.
So I started working as a video editor and copywriter, where I earned the nickname Farragoo because no one could pronounce Farrugia.
Unsatisfied with my army training, I traveled the world (well, mostly just the US and Australia but "the world" sounds better) and trained with instructors of USMC, CAG, SEAL and the now dissolved Spetsnaz GRU. Along the way I learned the legendary scouting, tracking and wilderness survival skills of the Chiricahua Apache scouts, Australian Aboriginals and the Australian SASR.
Advanced Apache scout training, badlands of Utah.
I soon started training in Systema, a little-known Russian combat system and closely guarded secret of the Spetsnaz. I was drawn to Systema by its elegant and efficient way to deal with multiple opponents. Based on natural movements, Systema was adaptable and creative, possessing a plasticity that set it apart from any other combat system we know today.
It wasn't long before my writing caught the eye of author and literary agent Xavier Waterkeyn. If by catching the eye, you could say jamming it into his face. Seeing potential in my work, Xavier mentored me through the final draft. 'You're the jour­neyman,' Xavier said. 'I'm just the fellow with the lantern.'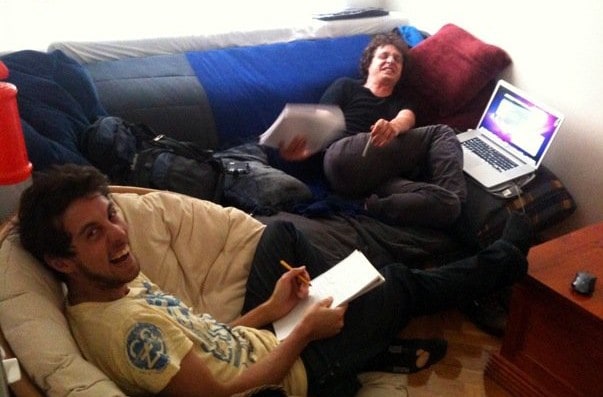 Xavier was one of few Australian writers to sell over 3 million books, including the inter­na­tionally bestselling and hilari­ously contro­versial Where's Bin Laden? picture book.
In 2011, I was dissatisfied with how the publishing industry was handling ebooks. I wanted to sell ebooks globally on all platforms, at a reasonable price and without DRM — all things that were unheard of in 2011 — so I planned to self-publish. Surprisingly, Xavier was pretty supportive of this.
So then I stalked an editor through the long grasses of Twitter to see if he was interested in editing my manuscript. He took on the job and was halfway through the edit when he told me: 'I am actually the publisher of Pan Macmillan's new Momentum imprint and here is a contract. Come with me if you want to live,' while driving a monster truck over a Porsche.
He wasn't driving a monster truck, but the rest is true.
Launched by Pan Macmillan, Momentum was one of the world's first digital imprints, a bold and progressive initiative. I was pretty excited to be their first debut author!
The Chimera Vector was the first novel published DRM-free by a major publisher.
In the following years, Momentum publisher Joel Naoum published the entire series of The Fifth Column, including The Chimera Vector, The Seraphim Sequence, The Phoenix Variant and the short story, The Phoenix Ascent.
Momentum was in many ways the future of publishing, and I was honored to be part of it.
Momentum and friends, and myself. And Archer.
The Fifth Column series was more successful than I could have imagined. The Chimera Vector was named the Thriller of the Year on iBooks and hit #1 on Amazon, iBooks and Kobo. Pan Macmillan even printed The Chimera Vector in Australia and New Zealand, despite the dire state of publishing and the difficulty local authors face when competing with bestsellers from other countries.
It was around this time I signed with Momentum to publish a new series of nine episodes called Helix.
Unfortunately, the Australian publishing industry hadn't been doing so well over the last few years and by 2016 things had taken a bad turn. Some publishers closed down and others dismantled their imprints. It was during this time that Momentum came to an end, dealing a heavy blow to fiction in Australia.
The Fifth Column series was claimed by the fiction division of Pan Macmillan.
After talking it over with my agent, I pulled Helix: Episode 1 a week before publication and reclaimed my rights for publication.
A few months later, I self-published it.
It was a great pleasure to be part of the future of publishing with Momentum, and to work with so many wonderful people. I've also had the privilege of meeting many amazing talented authors, some of whom I call my friends. We have our own gang now, but we need to be home before dark.
And so with digital imprints like Momentum gone, the future of publishing may very well be in the hands of authors themselves.
Helix Episode 1 was released on 1 June 2016, with subsequent episodes released monthly. You can read more about them here.
Following Helix, my next novella, Zero, headlined the Murder and Mayhem collection of mysteries and thrillers. It sold 32,921 copies on release week, outselling half the New York Times bestseller list.